thumb|400px|right|Itachi's Mangekyo Techniques: Tsukuyomi, Amaterasu and Susano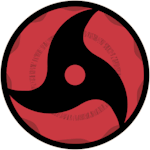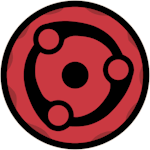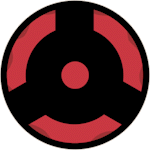 Translation: Kaleidoscope Copying Wheel Eye.
Type: Dojutsu.
Element: None.
Hand Seals: None.
Rank: None.
Description: The Mangekyo Sharingan is a legendary Dojutsu ability which has only emerged in a few Uchiha clan members in its history. There is still mystery surrounding the eye and the Uchiha clan itself. Each user develops their own unique looking Mangekyo. The requirements for gaining the Mangekyo are very controversial in nature. After Uchiha Itachi murdered his best friend Shisui he gained Mangekyo. He told his younger brother Sasuke that to gain the Mangekyo, he too would have to kill his closest friend. Itachi told Sasuke that a scroll in their clan shrine revealed the true original purpose of the clan doujutsu. This scroll and Itachi himself revealed that the former leader of their clan, Uchiha Madara and his younger brother Izuna were the first to obtain Mangekyo. Madara himself did this by killing his friend, it's assumed Izuna also killed a close comrade.
Usage of the Mangekyo techniques drains quite a bit of a user's chakra, more so than any other normal technique. Also as a result of Mangekyo usage, the bearer will slowly lose their vision. Madara lost his vision before his brother and sought to regain his power. To do so he removed Izuna's eyes (is assumed that Izuna gave his eyes to him) and made them his own. With these new eyes, his Mangekyo took on a combined appearance of his original Mangekyo and Izuna's. These "Eternal" Mangekyo eyes returned his vision and gave him unbelievable strength. With this strength it was said Madara used Sharingan's normal ability to supress the Kyubi and tame it.
Itachi originally told Sasuke that if he gained the Mangekyo, then there would be three people who could handle it. After the time skip in the series, Hatake Kakashi revealed he too had gained Mangekyo Sharingan. Later it was revealed that Uchiha Madara himself was still alive, and was the "third" user in Itachi's statement. What part, if any, that Kakashi and Uchiha Obito's eye plays has yet to be determined.
Itachi's three named Mangekyo techniques are Amaterasu, Tsukuyomi and Susano, all mythological deities. Kakashi's Mangekyo technique is named Kamui.
The Amaterasu or Goddess of the Sun technique is generated by the right Mangekyo eye. It is a Ninjutsu technique which uses the Mangekyo form to create a powerful black Fire which can burn through most anything. As it has been said that anything within the Mangekyo's vision will burn to ash if consumed by the fire. The fire itself is said to burn for 7 days and 7 nights. The fire is also regarded as the strongest of Mangekyo's physical attacks.
The Tsukuyomi or God of the Moon technique is generated by the left Mangekyo eye. It is a Genjutsu technique which uses the Mangekyo form to initiate a mentally and physically harmful illusion. To utilize the illusion, the clan member will look into the eyes of his opponent and cast a Genjutsu spell on them. The spell takes place in the mind of the one affected, while the Jutsu is cast the one it was cast upon is at the total mercy of the Uchiha clan member. The clan member has full control over space and time in the jutsu and can place the one affected through any hell they desire for any length desired. The technique itself only lasts for but a second in reality, but the one affected could have lasted through several days of pain. It is said only a natural born member of the Uchiha Clan can defeat it, this may mean either an Uchiha also holding the Mangekyo or one fully skilled in the three tomoe Sharingan form.
The Susano or God of the Sea and Storms technique is generated by both Mangekyo eyes. It is a technique which uses the Mangekyo form to create a sword wielding specter which will surround the user. This specter wields a shield for defense and a blade known as the Totsuka Sword. Anyone or anything cut by the blade will be sealed away into a Genjutsu of blissful oblivion until the end of time.
The Kamui or God's Majesty technique is used by Hatake Kakashi. With this technique, Kakashi forms a handseal to activate the Sharingan in his left eye and change it into his Mangekyo form. Kakashi then focuses on a point on the body of his target. The area around the target will then begin to warp and collapse in on itself, resulting in that area being quickly "sucked" out of existence and transported to another location.
Based On: Byakugan - Sharingan.
Variations:
Users: Uchiha Itachi, Uchiha Sasuke, Hatake Kakashi, Uchiha Madara, Uchiha Izuna.
Classification
Edit
Jutsu → Hijutsu → Kekkei Genkai → Dojutsu → Unranked